Here are the detailed specifications for Microsoft Surface Pro 4.
Microsoft Surface Pro 4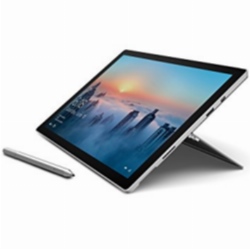 Our rating:
Type
Tablet
Operating System
?
Remember some tablets support multiple OS, we just list the more popular one
Windows
Main Processor
?
The type and speed of a processor make a huge difference in the overall user experience
2.4 GHz Intel Core i5-6300U
RAM
4 GB, up to 16 GB
Storage Options
?
This is the onboard storage, some tablets also has microsd slots. Also some of them comes with free cloud storage
128/256/512/ 1TB
4G Capable
?
Support cellular data network connectivity?
Screen Resolution
2736 x 1824
Display Type
ClearType Full HD Display
Battery Life(Tested by users)
?
Battery life under moderate use, i.e. browsing web pages with low brightness levels. We obtain this data from different web sites.
6 hours
Ports
Full-size USB 3.0
microSDXC card slot
Headset jack
Mini DisplayPort
Cover port
Sensors
?
If you are purchasing a tablet for a specific application then ensure that it has the required sensors.
Ambient light sensor
Accelerometer
Gyroscope
Magnetometer
GPS
Thickness
0.33 inches
Front Camera Resolution
5 megapixel
Rear Camera Resolution
8 megapixel
Weight
1.7 lbs.
Dimensions (L x W) (inches)
11.5 x 7.9 inches
Manufacturer URL
link
Screen Size (inches)
12.3 inches
Warranty
1 Year

A Youtube Video About Microsoft Surface Pro 4