Here are the detailed specifications for DeLonghi DD50PE 50-Pint Dehumidifier.
DeLonghi DD50PE 50-Pint Dehumidifier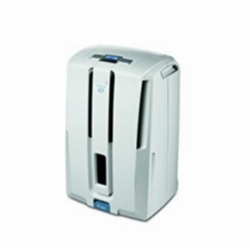 Our rating:

Type
Dehumidifier
Dehumidification (pints/Day)
?
The amount of moisture that can be removed from the air within a day.
50 pints/day
Container Capacity (pints)
?
The capacity of the water tank that holds water collected from the air, so the bucket's capacity is important for comfort especially if you are unable to attach a garden hose to the drain port.
12.7 pints
Dehumidification Area (square feet)
?
Maximum area in square feets that the dehumidifier designed for to remove moisture easily.
1000 sq ft
Bucket Style
Front Bucket
Wattage
450 W
ENERGY STAR Certified
41F Lowest Operating Temperature
?
Can it run in low temperatures(as low as 41 degrees Fahrenheit) without freezing?
Noise Level (decibels)
55 dBA
Humidistat
Continuous Draining
Auto Restart
?
Does the dehumidifier automatically restart with last settings after a power outage?
Auto Shut-Off
?
Shut-Off when the bucket is full, also many models warn you when the bucket is full.
Auto Defrost
?
The device prevents frosting on evaporator coils by turning off the compressor and keeping the fans on when frost accumulates on the dehumidifier's evaporator coils.
Full Bucket Alert
?
Visual or sound indicator when the water tank is full.
Removable Air Filter
?
Great for keeping your device clean.
Built-In Drain Pump
?
A built-in pump can push the excess water through a hose you attach to the drain port, models without the pump need gravity to help drain water.
24-Hour Timer
Dimensions
15.3 x 12.4 x 24.3 inches
Weight
40 lbs.
Manufacturer URL
Link
Warranty
1 year warranty

A Youtube Video About DeLonghi DD50PE 50-Pint Dehumidifier