Here are the detailed specifications for BenQ HC1200.
BenQ HC1200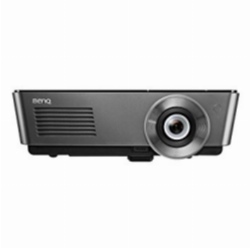 Our rating:
Type
Home Theater Projector
Projection Technology
DLP
Projection Method
Front / rear / ceiling mount
Native Resolution
?
Native resolution is the real, physical resolution of the microdisplay used in the projector.
1920 x 1080
Aspect Ratio
?
The native ratio of the microdisplay's width to its height, many projectors support other ratios with no problem.
Native 16:9 (5 aspect ratio selectable)
Lamp Type
310 W
Lamp Life (hours)
?
Maximum lamp life(usually in Eco mode) in hours.
3000 hours (up to)
Contrast Ratio
?
How different a projector's black looks from its white.
Up to 11,000:1
Color Brightness
?
The amount of brightness in lumens.
2800 lumens
White Brightness
2800 lumens
Inputs/Interface
Computer in (D-sub 15pin) x 2
HDMI x 2
Monitor out x 1
Composite Video in (RCA) x 1
S-Video in x 1
Audio in (Mini Jack) x 1
Audio in (L/R) x1
Audio out (Mini Jack) x 1
Speaker 5W x 1
LAN(RJ-45) x1
USB (Type B) x 1
DC 12V Trigger (3.5mm Jack) x 1
RS232 (DB-9pin) x 1
Input Signals
480i, 480p, 576i, 576p, 720p, 1080i, 1080p
Picture Modes
Throw Ratio Range
1.398 – 2.09
Image Size(Diagonal)
?
Minimum and Maximum image size you can get on the screen
26″ – 300″
Projection Distance
?
The distance between the projector and the screen determines the size of the image. Of course image size depends on many other settings like the aspect ratio, zoom and other settings.
–
Keystone Correction
1D, Vertical +/- 40 degrees
Wireless
Zoom Ratio
1.0 – 1.5
3D
Fan Noise (dB)
33 dB – 38 dB
Dimensions
10.2″ x 14.1″ x 10″
Weight
8.14 lbs
Manufacturer URL
Link

What We Like About BenQ HC1200
Great color and contrast, colors are very accurate.
Very good brightness
This projector is designed as both a business and home entertainment projector.
The remote control has a laser pointer which is usefull for your presentations.
See How This Item Compares to Others
A Youtube Video About BenQ HC1200